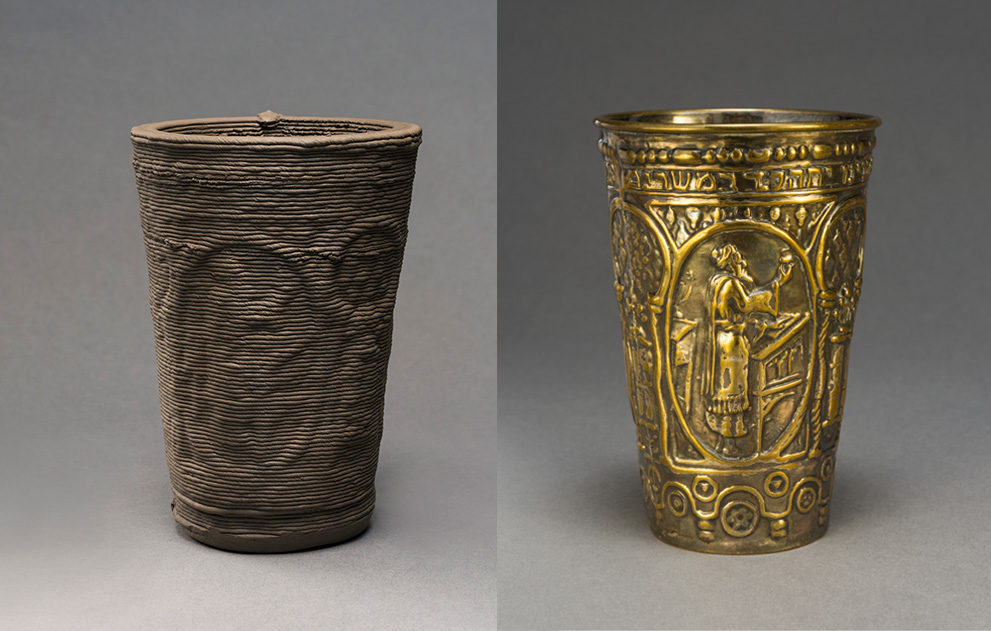 Leaning Towers (Kiddush Cup), Earthenware ceramics, 2019 (alongside original kiddush cup from the Magnes collection)
Leaning Towers (Kiddush Cup) and Leaning Towers (Hanukkah Lamp) are part of a series of 3D printed replicas of objects kept in The Magnes Collection of Jewish Art and Life, which were originally produced in the early 20th century at the Bezalel School of Arts and Crafts.
The series highlights the tensions inherent to the original objects: between art and craft, the decorative and the conceptual, fine arts and functional products. Craftsmanship is substituted with the process and software of photogrammetry, mesh building, and 3D printing, aimed at eradicating any trace of the human hand. Thus, the artistic sensibility of these 3D-printed objects resides in the conceptual framework in which they were created as well as in the inadequate deployment of industrial design technologies. The 'one-of-a-kind' quality associated with handmade objects is replaced in these replicas with the unpredictable failures, beautiful blemishes, and faded results that occur due to the mediation of the 3D printing process and the translation between materials and media. Suggesting failure as the maker/marker of value presents us with the opportunity to rethink the various hierarchies outlined above.
The replica of the Kiddush Cup is printed in earthenware ceramics, resulting in an uncanny hybrid, in which modern technologies appropriate the most ancient material used for the creation of tools, as well as for craft-making and art-making. The Hanukkah Lamp is printed in PLA plastic: a low-cost, lightweight and standard material for product design. In this replica, the plastic's value becomes malleable, as a viable alternative to the silver used by Bezalel artisans.
The piece was commissioned by The Magnes Collection of Jewish Art and Life and is part of their permanent collection. Watch a short artist talk about these pieces.